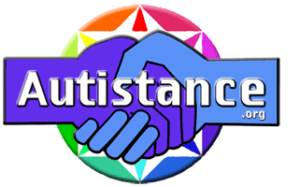 This site is a kind of multi-functional tool for mutual support for autistic persons and parents of autistic persons, with the help of volunteers.
Please note that currently this site is optimized for computers and may be sometimes difficult to use with a smartphone. 
Anyway, given that the goal of this site is about solving problems (and not about only talking about them), most of the times it is necessary to use a real large screen and a big physical keyboard, in order to work decently and efficiently.
The main features are :
"Services" (proposed to the autistic persons – and sometimes to the parents, like an Emergency Support Service (to do, with an "Anti-Suicide Team"), an "AutiWiki" (knowledge base, questions and answers, resolution guides – under construction), an Employment Service (under construction), and more in the future (about the various needs, like housing, health, creativity, experimentation and travels, etc.));
"Blogs" (in order to share the needs and announcements – not personal blogs);
"Working Groups" (in particular, those helping our other concepts and sites, and our "Services");
"Departments" (of assistance, especially thanks to volunteers);
"Development" (of tools, systems, methods and other things useful for autistic people);
"Groups of Persons" with various ways to navigate them by type of users, by language, or by country or region.
Now please just move your mouse over the icons of the top menu (dark blue), in order to see the "information bubbles".
In the groups, there are various tools:
Text Chat systems for each group (including a system synchronized with Telegram, for some groups);
Forum sections (dedicated for each group, but also part of a unique forum, that you can browse entirely except a few reserved sections);
shared Documents (in particular, collaborative texts);
and the most important, the key component of the site: a Project Management system (with various projects for each group, including milestones, lists of tasks, tasks, sub-tasks, comments, deadlines, responsible persons, Kanban board, Gantt chart, etc.), reserved to the members of a group.
Another useful feature, which is at the core of the concept, is the "AutPerNets" system (for "Autistic Personal Networks).
Every autistic person can have their own AutPerNet here (which can be managed by their parents if necessary) ; it is designed to gather and to "synchronize" all the people who are "around" the autistic person or who can help her, in order to share informations and situations, to stick to a coherent strategy (rules should be the same and applied the same, otherwise they will be perceived as unjust or nonsense, hence hardly followed), and to attend emergencies.
The AutPerNets are private, and – for example – parents can use them to upload video recordings of the situations and behaviours of their autistic children, and invite some users that they trust, in order to analyse them.
There is also a rather classical community system, where the users of the site can know each other.
However, this site Autistance.org is not intended for publishing personal things nor for talking about other subects than those of the Working Groups, inside of them.
Last but not least: there are also various video chat rooms, very easy to use, where the registered users can discuss about what they want: preferably about helping the autistic people of course, but these chat rooms are not made for "working" and no decision will be taken there.
Indeed, all the important steps of the "works" have to be made by written (in particular, in the Project Management system), in order:
to be able to guarantee equity for the persons who did not participate to a live meeting;

to analyse them later (for example, to understand errors);

and also in order to re-use them as examples for similar projects (or solutions) in the future by other autistic persons or families anywhere in the world.
Please do not be afraid by the complexity or by the (false) idea that "you cannot".
Just try, like we do.
Anyone can help, no one is useless, help is not a luxury for us:
Sign-up in the Autistance.org adventure,
and let's see later what we can do all together.
Thank you!
---
More information:
This concept of practical assistance for autistic individuals is complementary of Autistan.org, which is about the cause of autism in general (especially with the public authorities) and not for individual cases.
This project of mutual help system is necessary because public agencies and other agencies do not provide (or very little) the necessary assistance to autistic people (and their families).
Like all our concepts, here it's the autistic persons who are at the center of the project.
But, contrary to the concepts "Autistan", here we – the autistics – are at the center but we are not directing everything.
We want a genuine system of self-help and sharing based on the idea that everyone needs everyone, and that neither autistic people nor parents can reduce our difficulties by doing things alone.
One of the basics of this concept is the fact that every autistic person needs a personal network of self-help. It is obvious, but it rarely exists.
This project can produce results only with the participation of a large number of persons.
In order to have a single workspace, the "Autistance" concept also manages the realization (but not the direction) of all the projects for the other concepts and sites (Autistan, and other sites "non-Autistan", for example in France), thanks to our "Project Manager" system.
Please note also that, in spite of the fact that some Working Groups here may help some of our other sites which have an "activist" or even "political" action, Autistance.org is only a tool, is not an organisation, has no "activist" nor "political" role (nor intentions of such), and that the "strategical" decisions are not taken here.
Therefore, the discussions about policies, principles, theories, hypotheses, and so on, are not in the scope of Autistance.org, are generally counter-productive here, and may be prohibited in most areas of the site (entirely in the Project Management, and in all the public sections of the Forum).
---
There is nothing to pay to use Autistance.org, nor hidden fees: everything is free.
The persons who want to help us to pay our bills can make a little donation through Autistan.shop.